What are the learning objectives?
The PMP renewal pack essentially helps you earn 60+ PDUs to keep your PMI certification active.The courses that are part of this bundle are ITIL, Lean Six Sigma Green Belt training, Agile Scrum Master, MS Project, and Project Risk Management. Learn skills required to deliver effective IT services with our ITIL course. You can develop the ability to implement quality projects and applications with the Lean Six Sigma Green Belt training and develop an understanding of Agile and Scrum methodologies through our Agile training. MS Project helps you build your skills in planning and implementing a plan. With the RMP course, you will be able to implement advanced concepts of risk management.
Simplilearn's Data Scientist Master's Program will help you master skills and tools like Statistics, Hypothesis testing, Clustering, Decision trees, Linear and Logistic regression, R Studio, Data Visualization, Regression models, Hadoop, Spark, PROC SQL, SAS Macros, Statistical procedures, tools and analytics, and many more. The courseware also covers a capstone project which encompasses all the key aspects from data extraction, cleaning, visualisation to model building and tuning. These skills will help you prepare for the role of a Data Scientist.
The program provides access to high-quality eLearning content, simulation exams, a community moderated by experts, and other resources that ensure you follow the optimal path to your dream role of data scientist.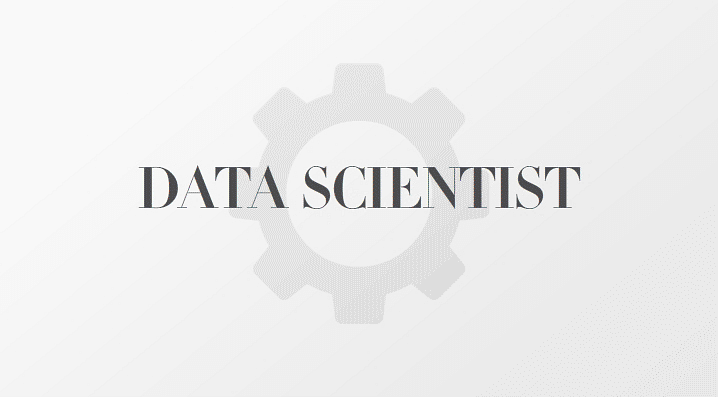 Why be a Data Scientist?
Data scientist is the pinnacle rank in an analytics organization. Glassdoor has ranked data scientist first in the 25 Best Jobs for 2016, and good data scientists are scarce and in great demand. As a data scientist you will be required to understand the business problem, design the analysis, collect and format the required data, apply algorithms or techniques using the correct tools, and finally make recommendations backed by data.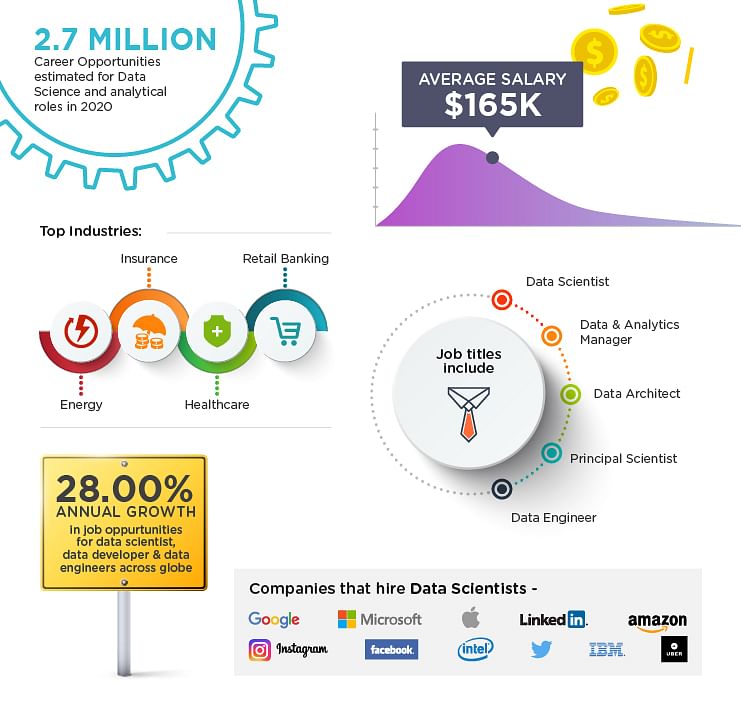 What projects are included in this program?
This Data Scientist Master's program includes 15+ real-life, industry-based projects on different domains to help you master concepts of Data Science and Big Data. A few of the projects, that you will be working on are mentioned below:
Capstone Project: Description: You will go through dedicated mentored classes in order to create a high-quality industry project, solving a real-world problem leveraging the skills and technologies learnt throughout the program. The capstone project will cover all the key aspects from data extraction, cleaning, visualisation to model building and tuning. You also get the option of choosing the domain/industry dataset you to want to work on from the options available. After successful submission of the project, you will be awarded a capstone certificate that can be showcased to potential employers as a testament to your learning. Project 1: Products rating prediction for Amazon Amazon, one of the leading US-based e-commerce companies, recommends products within the same category to customers based on their activity and reviews on other similar products. Amazon would like to improve this recommendation engine by predicting ratings for the non-rated products and add them to recommendations accordingly. Domain: E-commerce Project 2: Improving customer experience for Comcast Domain: Telecom Description: Comcast, one of the US-based global telecommunication companies wants to improve customer experience by identifying and acting on problem areas that lower customer satisfaction if any. The company is also looking for key recommendations that can be implemented to deliver the best customer experience. Project 3: Attrition Analysis for IBM Domain: Workforce Analytics Description: IBM, one of the leading US-based IT companies, would like to identify the factors that influence attrition of employees. Based on the parameters identified, the company would also like to build a logistics regression model that can help predict if an employee will churn or not. Project 4: Predict accurate sales for 45 stores of Walmart, one of the US-based leading retail stores, considering the impact of promotional markdown events. Check if macroeconomic factors like CPI, unemployment rate, etc. have an impact on sales. Domain: Retail Description: Walmart runs several promotional markdown events throughout the year. The markdowns precede prominent holidays, such as the Super Bowl, Labour Day, Thanksgiving, and Christmas. The weeks including these holidays are weighted five times higher in valuation than non-holiday weeks. The business is facing a challenge due to unforeseen demand, resulting in stocks running out at times due to inaccurate demand estimation. The macroeconomic factors like CPI, Unemployment Index etc. also play an important role in predicting the demand, but the business hasn't been able to leverage these factors yet. As a part of this project, create a model to highlight the effects of markdowns on the holiday weeks. Project 5: Learn how leading Healthcare industry leaders make use of Data Science to leverage their business. Domain: Health Care Description: Predictive analytics can be used in healthcare to mediate hospital readmissions. In healthcare and other industries, predictors are most useful when they can be transferred into action. But historical and real-time data alone are worthless without intervention. More importantly, to judge the efficiency and value of forecasting a trend and ultimately changing behaviour, both the predictor and the intervention must be integrated back into the same system and workflow where the trend originally occurred. Project 6: Understand how the Insurance leaders like Berkshire Hathaway, AIG, AXA, etc make use of Data Science by working on a real-life project based on Insurance. Domain: Insurance Description: Use of predictive analytics has increased greatly in insurance businesses, especially for the biggest companies, according to the 2013 Insurance Predictive Modeling Survey. While the survey showed an increase in predictive modelling throughout the industry, all respondents from companies that write over $1 billion in personal insurance employ predictive modelling, compared to 69% of companies with less than that amount of premium. Project 7: See how banks like Citigroup, Bank of America, ICICI, HDFC make use of Data Science to stay ahead of the competition. Domain: Banking Description: A Portuguese banking institution ran a marketing campaign to convince potential customers to invest in a bank term deposit. Their marketing campaigns were conducted through phone calls, and sometimes the same customer was contacted more than once. Your job is to analyze the data collected from the marketing campaign. Project 8: Learn how Stock Markets like NASDAQ, NSE, BSE, leverage on Data Science and Analytics to arrive at a consumable data from complex datasets. Domain: Stock Market Description: As a part of the project, you need to import data using Yahoo data reader of the following companies: Yahoo, Apple, Amazon, Microsoft, and Google. Perform fundamental analytics including plotting closing price, plotting stock trade by volume, performing daily return analysis, and using pair plot to show the correlation between all the stocks. Project 9: See how Data Science is used in the field of engineering by taking up this case study of MovieLens Dataset Analysis. Domain: Engineering Description: The GroupLens Research Project is a research group in the Department of Computer Science and Engineering at the University of Minnesota. The researchers of this group are involved in many research projects related to the fields of information filtering, collaborative filtering, and recommender systems. Project 10: Understand how leading retail companies like Walmart, Amazon, Target, etc make use of Data Science to analyze and optimize their product placements and inventory. Domain: Retail
What type of jobs are ideal for data science trained professionals?
Jobs that are ideal for data science-trained professionals include:
Statistical programming specialist
Data analyst
Data scientist
Data science manager
Data Science Certification Training - R Programming
Become an expert in data analytics using the R programming language in this data science certification training course. You'll master data exploration, data visual ization, predictive analytics and descriptive analytics techniques with the R language. With this data science course, you'll get hands-on practice by implementing various real-life, industry-based projects in the domains of healthcare, retail, insurance, and many more.
Data Science With SAS Training
In this SAS Certification Training, you'll become an expert in analytics techniques using the SAS data science tool. You'll learn how to apply data manipulation and optimization techniques; advanced statistical concepts like clustering, linear regression, and decision trees; data analysis methods to solve real-world business problems and predictive modelling techniques. This SAS Certification course will give you practical knowledge you can apply on your next data analysis job.
Data Science With Python
This Data Science with Python course will establish your mastery of data science and analytics techniques using Python. With this Python for Data Science Course, you 'll learn the essential concepts of Python programming and gain deep knowledge in data analytics, machine learning, data visualization, web scraping and natural language processing. Python is a required skill for many data science positions, so jumpstart your career with this interactive, hands-on course.
Machine Learning
Simplilearn's Machine Learning course will make you an expert in machine learning, a form of artificial intelligence that automates data analysis to enable compute rs to learn and adapt through experience to do specific tasks without explicit programming. You will master machine learning concepts and techniques including supervised and unsupervised learning, mathematical and heuristic aspects, and hands-on modeling to develop algorithms and prepare you for the role of Machine Learning Engineer.
vBig Data Hadoop And Spark Developer
The Big Data Hadoop and Spark developer course has been designed to impart in-depth knowledge of Big Data processing using Hadoop and Spark. The course is packed wit h real-life projects and case studies to be executed in the CloudLab.
Tableau Desktop 10 Qualified Associate Training
This Tableau training course will help you master the Tableau Desktop 10 data visualization and reporting tool. You'll learn how to build visualizations, organize data, and design dashboards to empower more meaningful business decisions. And you'll be exposed to the concepts of statistics, data mapping and establishing data connections. The course includes four industry-based projects and two simulation exams to prepare you for the Tableau Desktop 10 Qualified Associate certification.
Data Science Capstone
Simplilearn's Data Science Capstone project will give you an opportunity to implement the skills you learned in the Data Scientist Master's Program. Through dedi cated mentoring sessions, you'll learn how to solve a real-world, industry-aligned data science problem, from data processing and model building to reporting your business results and insights. The project is the final step in the Data Scientist Masters Program and will help you to show your expertise in data science to employers.