What are the learning objectives?
Simplilearn's Big Data Hadoop Architect Masters Program will help you master skills and tools like Cassandra Architecture, Data Model Creation, Database Interfaces, Advanced Architecture, Spark, Scala, RDD, SparkSQL, Spark Streaming, Spark ML,GraphX, Replication, Sharding, Scalability, Hadoop clusters, Storm Architecture, Ingestion, Zookeeper and Kafka Architecture. These skills will help you prepare for the role of a Big Data Hadoop architect.
The program provides access to high-quality eLearning content, simulation exams, a community moderated by experts, and other resources that ensure you follow the optimal path to your dream role of data scientist.
Recommended Learning Path: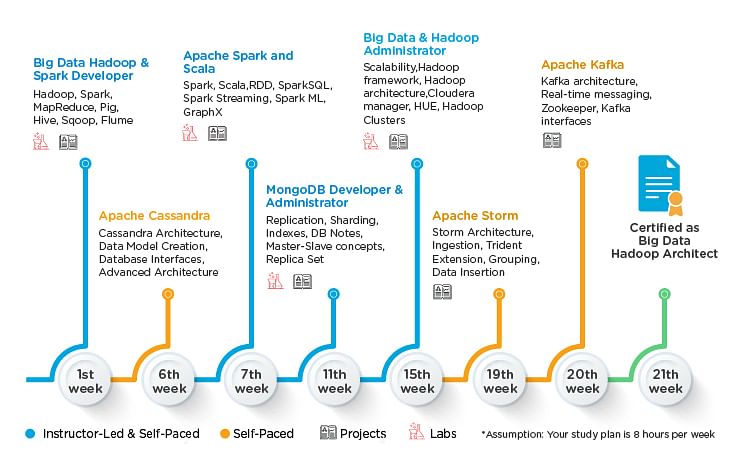 Why become a Big Data Hadoop Architect?
In addition to being responsible for planning and designing next-generation Big Data systems, Hadoop architects also manage large-scale development and deployment of Hadoop applications. Big Data Hadoop Architects have become the critical link between business and technology.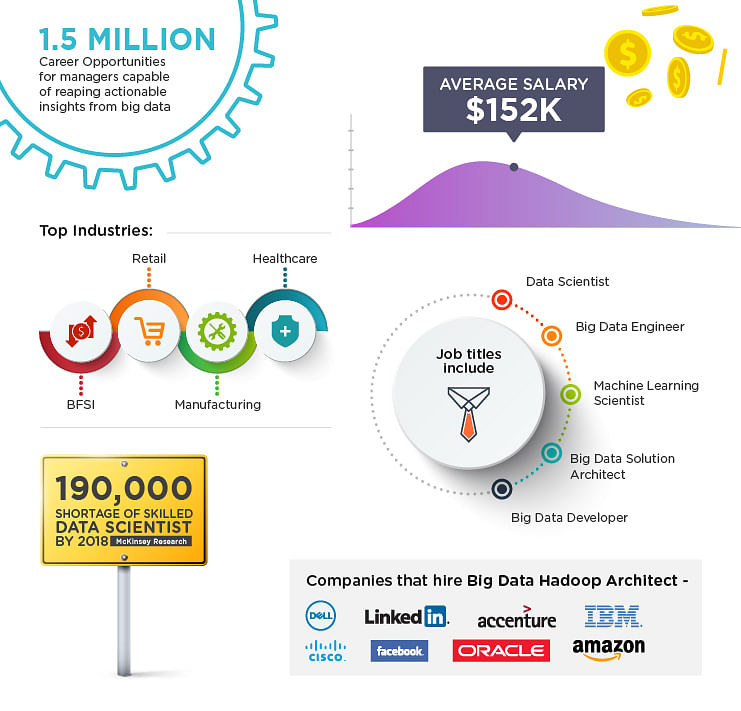 What projects are included in this program?
This Big Data Hadoop Architect Master's program includes 12+ real-life, industry-based projects on different domains to help you master concepts of Big Data Architect like Clusters, Scalability, Configuration. A few of the projects, that you will be working on are mentioned below:
Project 1: See how large MNCs like Microsoft, Nestle, PepsiCo, set up their Big data clusters by gaining hands-on experience on the same
Project Title: Scalability-Deploying Multiple Clusters
Description: Your company wants to set up a new cluster and has procured new machines; however, setting up clusters on new machines will take time. Meanwhile, your company wants you to set up a new cluster on the same set of machines and start testing the new cluster's working and applications.
Project 2: Understand how companies like Facebook, Amazon, Flipkart leverage on Big Data Clusters using the below case study.
Project Title: Working with Clusters
Description: Demonstrate your understanding of the following tasks (give the steps):
Enabling and disabling HA for namenode and resourcemanager in CDH
Removing Hue service from your cluster, which has other services such as Hive, HBase, HDFS, and YARN setup
Adding a user and granting read access to your Cloudera cluster
Changing replication and block size of your cluster
Adding Hue as a service, logging in as user HUE, and downloading examples for Hive, Pig, job designer, and others
Project 3: See how banks like Citigroup, Bank of America, ICICI, HDFC make use of Big Data to stay ahead of the competition.
Domain: Banking
Description: A Portuguese banking institution ran a marketing campaign to convince potential customers to invest in a bank term deposit. Their marketing campaigns were conducted through phone calls, and sometimes the same customer was contacted more than once. Your job is to analyze the data collected from the marketing campaign.
Project 4: Learn how Telecom giants like AT&T, Vodafone, Airtel make use of Big Data by working on a real-life project based on telecommunication.
Domain: Telecommunication
Description: A mobile phone service provider has launched a new Open Network campaign. The company has invited users to raise complaints about the towers in their locality if they face issues with their mobile network. The company has collected the dataset of users who raised a complaint. The fourth and the fifth field of the dataset has a latitude and longitude of users, which is important information for the company. You must find this latitude and longitude information on the basis of the available dataset and create three clusters of users with a k-means algorithm.
Project 5: Understand how entertainment companies like Netflix, Amazon Prime leverage on Big Data.
Domain: Movie Industry
Description: US-based university has collected datasets which represent reviews of movies from multiple reviewers as a part of Research Project. To gain in-depth insights from research data collected you have to perform a series of tasks in Spark on the dataset provided.
Project 6: Learn how E-Learning companies like Simplilearn, Lynda, Pluralsight make use of NoSQL and Big Data technology.
Domain: E-Learning Industry
Description: Design a Web application for a leading E-learning organization using MongoDB to support read and write scalability. You can use web technologies such as HTML, JavaScript (JSP), Servlet, and Java. Using this Web application, a user should able to add, retrieve, edit, and delete the course information using MongoDB as the backend database. Screenshots for the GUI are shown below. Note that it is not mandatory to use Java technologies. You can choose any technology that you are comfortable with to design this Web application.
What type of jobs are ideal for Big Data trained professionals?
Jobs that are ideal for Big Data trained professionals include:
Big Data lead
Big Data engineer
Big Data architect
Technical program manager
Product engineer - Big Data expert
Cloud service engineer
Big Data/ Hadoop developer
Big Data Hadoop And Spark Developer
The Big Data Hadoop and Spark developer course has been designed to impart in-depth knowledge of Big Data processing using Hadoop and Spark. The course is packed wit h real-life projects and case studies to be executed in the CloudLab.
Apache Spark & Scala
This Apache Spark and Scala certification training is designed to advance your expertise working with the Big Data Hadoop Ecosystem. You will master essential skills of the Apache Spark open source framework and the Scala programming language, including Spark Streaming, Spark SQL, machine learning programming, GraphX programming and Shell Scripting Spark. This Scala Certification course will give you vital skillsets and a competitive advantage for an exciting career as a Hadoop Developer.
MongoDB Developer And Administrator
MongoDB Developer and Administrator certification from Simplilearn would equip you to master the skills to become MongoDB experienced professional. You would beco me job ready by mastering data modelling, ingestion, query and Sharding, Data Replication with MongoDB along with installing, updating and maintaining MongoDB environment.
Big Data And Hadoop Administrator
This Big Data and Hadoop Administrator training course with furnish you with the aptitudes and methodologies necessary to excel in the fast-developing Big Data Analy tics industry. With this Hadoop Admin training, you'll learn to work with the adaptable, versatile frameworks based on the Apache Hadoop ecosystem, including Hadoop installation and configuration; cluster management with Sqoop, Flume, Pig, Hive and Impala and Cloudera; and Big Data implementations that have exceptional security, speed and scale.
Apache Storm
Apache Storm Certification Training from Simplilearn equips you with an experience in stream processing big data technology of Apache Storm. It equips you with ex perience in Apache Storm for real-time event processing with Big Data. The course is developed to enable you to take up Big Data Hadoop developer responsibilities requiring Apache Storm skills.
Apache Kafka
In this Apache Kafka certification course, you will learn to master the architecture, installation, configuration and interfaces of Kafka open-source messaging. With this Kafka training, you will learn the basics of Apache ZooKeeper as a centralized service and develop the skills to deploy Kafka for real-time messaging. The course is part of the Big Data Hadoop Architect master's program and is recommended for developers and analytics professionals who wish to advance their expertise.
Apache Cassandra
This Apache Cassandra Certification Training will develop your expertise in working with the high-volume Cassandra database management system as part of the Big Data Hadoop framework. With this Cassandra training, you will learn Cassandra concepts, features, architecture and data model, and how to install, configure and monitor open-source databases. The Casandra course is ideal for software developers and analytics professionals who wish to further their careers in the Big Data field.